Send your job cv to:  info.mahinur@gmail.com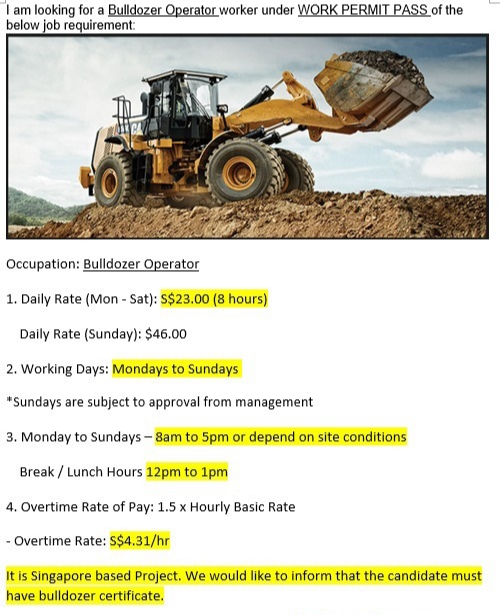 1. MAHINUR INTERNATIONAL  Urgent Skypie Interview on 20 December 2018 for DICO TECH. QATAR. Trade: Water proofing Technician.Salary:QR900+Food.Trade: PVC Welder. Salary: QR900+Food.
(a) Have min 3 years of experience in concern trade. GCC preferable.(b) Speaking : Hindi/English must. . Interested candidates are requested to attend with CV, Passport & Necessary documents. Thanks.
(2)For Singapore Job
looking for class 3 driver.. Wp.. morning 2 trips night after worker finish work 2 trips.. then in between if need to buy things of collect docs etc.. must go. As and when only not always so basically afternoon time quite free. $1200package. Check if any worker wants? WP not SPASS
(3)For Singapore Job
 Welder
Factory job – iron works
OT: 1.5x
Sunday and Ph: 2x
Can promise 2 hrs OT everyday
(4)For Singapore Job
core-trade welder (3G/4G)
OT: 1.5x
PH and Sun: 2X
Bangladesh
(5)For Singapore Job
Structural steel fitter and installer (3 years u-turn)
Factory job
OT: 1.5x
Sunday and Ph: 2x
Can promise 2 hrs OT everyday)
N.B: Service Charge & Agency Fee Depends on your Qualification & Expertise. You will need to Pay after IPA confirm your Approval for the Job. 
send your job cv to : info.mahinur@gmail.com